如何使用香薰精油炉: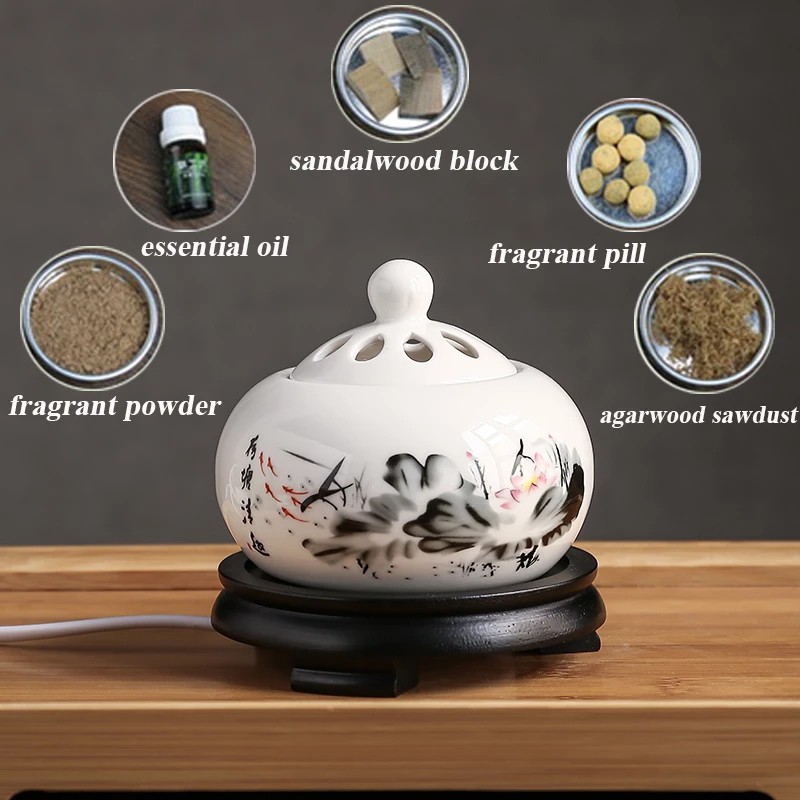 1)精油,温度调节至100°,时间设定为2小时;
2)粉末,温度调节至200°,时间4小时;
3)檀香木,温度调节至240°,时间设定为4小时;
4)在使用粉状和木块的过程中,请将香料放入盘子中,清洗方便,芳香疗法效果好。
5)避免长时间干烧,可延长产品
Our product feature :
Material :high-temperature resistant ceramics
Power :35w
Voltage:220v
Max temperature : 320°
Timer : 1-5 hours
Hand Crafts :exquisite hand-painted patterns and nature wood base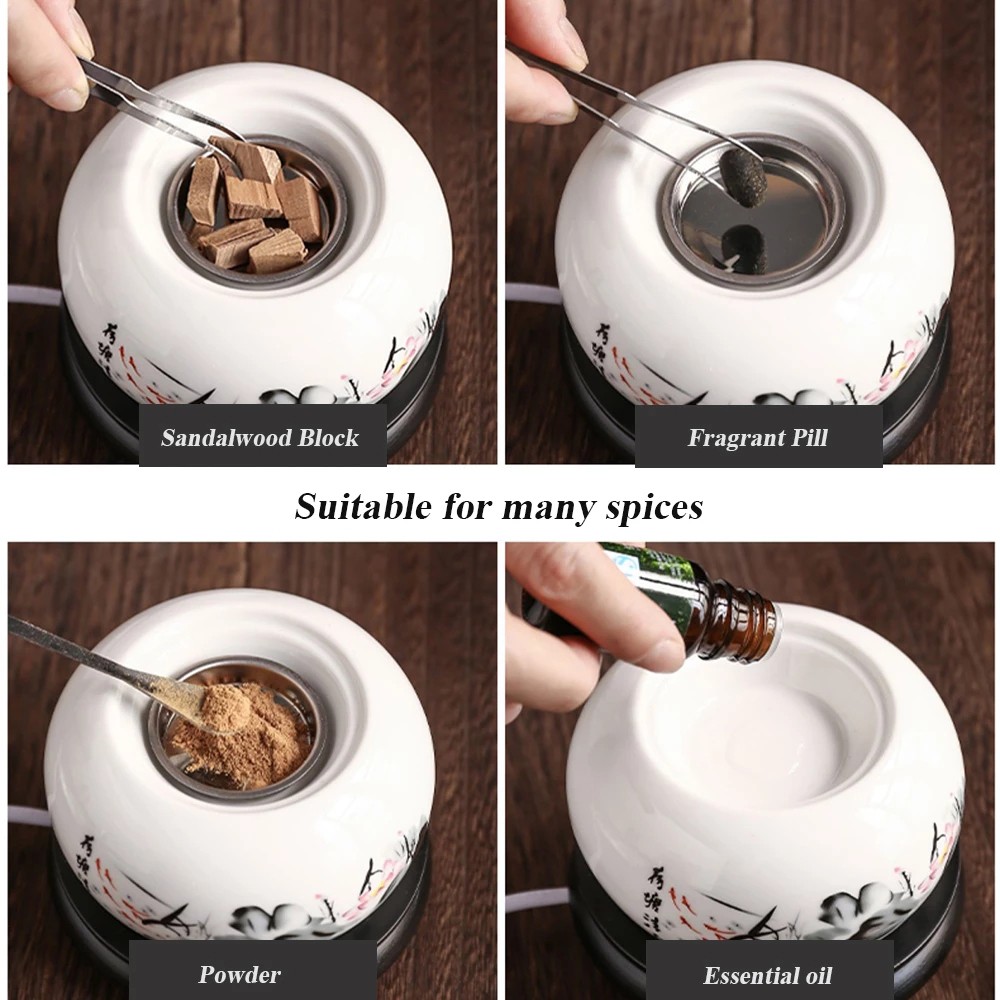 Package List :
1 x oil burner,
1 x clip,
1x plate,
1x spoon
1x UK Conversion plug
Feature:
1. Exquisite craftsmanship & Enjoy aromatherapy :Our Oil Burner is made of high-temperature resistant ceramics, matched with exquisite hand-painted patterns,wood base, and the overall design is more popular and retro. Our Oil Diffuser runs silently and without light, bringing you fragrance.
2. Multiple Function Oil Burner:
Intelligent timing function: According to personal preferences, the aromatherapy time can be set within 1-5 hours. Adjustable temperature function: maximum temperature control of 320 degrees Celsius, which can be adjusted to the corresponding temperature according to the properties of the spices.
3. Widely Applications Aroma Diffuser :Suitable for a variety of fragrances, such as essential oils, powders, fragrant pills, sandalwood block, frankincense, etc.; suitable for a variety of places, such as bedrooms, living rooms, yoga rooms, meditation rooms, tea rooms, and offices, etc.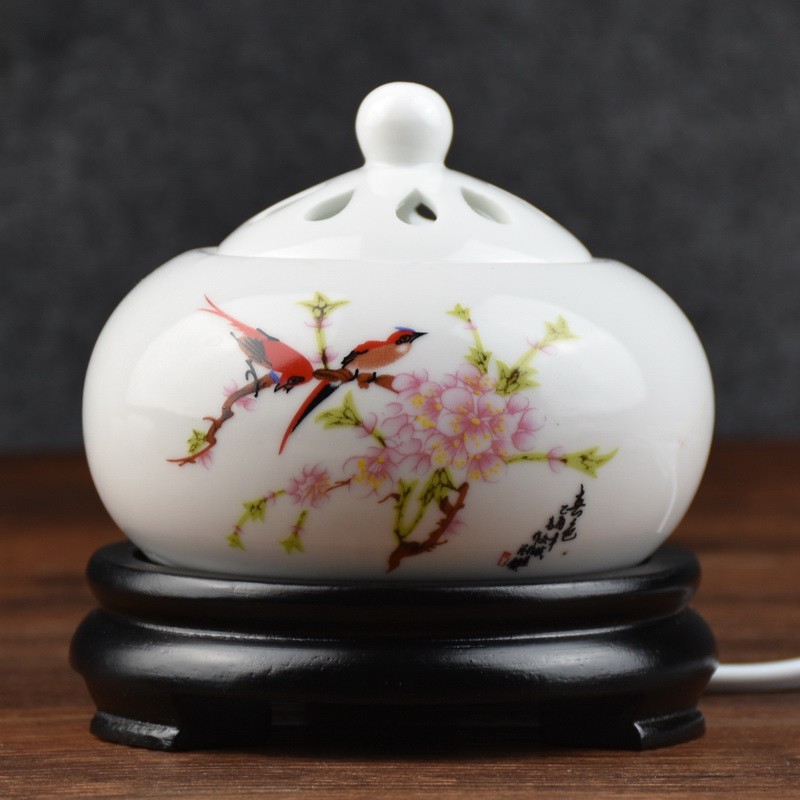 4. How to use oil burner :
1)Essential oil, the temperature adjusted to 100°, and the time set to 2 hours;
2)Powder, the temperature adjusted to 200°, the time 4 hours ;
3)Sandalwood , the temperature adjusted to 240°, the time set to 4 hours;
4)In the process of using the powder and wooden blocks, please put the spices in the dish, which is convenient for cleaning and good in aromatherapy effect.
5. What We Get & Promise :
The package include: 1 x oil burner, 1 x clip,1x plate,1x spoon ;
Promise : Once the product is found to be damaged or the product does not work, we promise to give you a free replacement.So please contact us for replacement in time.
Description :
Why choose our oil burner
1. When doing yoga or meditation, Drop a few drops of essential oil or put a small amount of sandalwood block into our oil burner, adjust the temperature and time, and then the fragrance will be wrapped in the room to relax your brain.
2.When you feel tired, using our oil burner and working in an aromatherapy environment will make you feel relaxed and improve your work efficiency!
3.If you have poor sleep quality or frequent insomnia, please use our oil burner before going to bed to help you fall asleep and improve the quality of sleep.
4.Our oil burner is exquisite and beautiful in appearance, and can be placed in any corner of the room as home decorations when not in use.
Other results of 220V Timed Thermostat Electric Essential Oil Burner , Sandalwood/ Fragrance Powder /Pill Aroma Diffusers exclude lazada & shopee
---
PPIC Statewide Survey: Californians and Their Government
Oct 27, 2022 · Key Findings. California voters have now received their mail ballots, and the November 8 general election has entered its final stage. Amid rising prices and economic uncertainty—as well as deep partisan divisions over social and political issues—Californians are processing a great deal of information to help …
Author: www.ppic.org
---
U.S. appeals court says CFPB funding is unconstitutional
Oct 20, 2022 · That means the impact could spread far beyond the agency's payday lending rule. "The holding will call into question many other regulations that protect consumers with respect to credit cards, bank accounts, mortgage loans, debt collection, credit reports, and identity theft," tweeted Chris Peterson, a …
Author: www.protocol.com
---
Could Call of Duty doom the Activision Blizzard deal?
Oct 14, 2022 · Call of Duty is a major revenue-driver on PlayStation because of the console's large install base of more than 150 million units. But beyond that, Microsoft's strategy of acquiring studios, putting more games on its subscription platform, and supporting game streaming is undermining Sony's business model.
Author: www.protocol.com
---
Unbanked American households hit record low numbers …
Oct 25, 2022 · The number of American households that were unbanked last year dropped to its lowest level since 2009, a dip due in part to people opening accounts to receive financial assistance during the ...
Author: www.usatoday.com
---
Microsoft says a Sony deal with Activision stops Call of …
Oct 21, 2022 · A footnote in Microsoft's submission to the UK's Competition and Markets Authority (CMA) has let slip the reason behind Call of Duty's absence from the Xbox Game Pass library: Sony and
Author: www.pcgamer.com